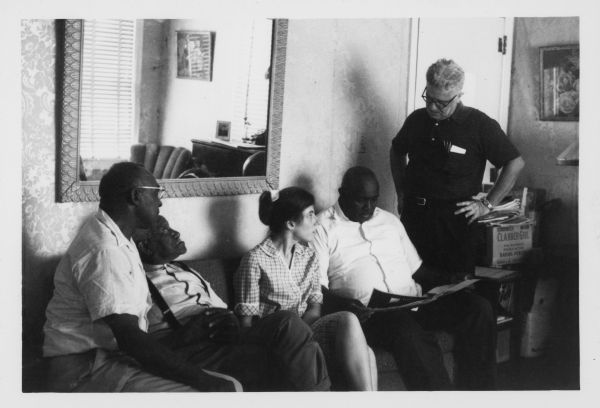 Media Credit
Group of people sitting on a sofa. Amzie Moore is sitting on the far right holding papers in his hands, Amzie Moore papers, WHS
A Story from Here
A dramatic shift in Black consciousness happened in Bolivar County on April 3, 1940, when thousands of Blacks gathered at Delta State College. About a decade later, the Regional Council of Negro Leadership was formed, and Bolivar County became one of the centers of Black organizing for political rights. It was here that World War II veteran Amzie Moore emerged as an unstoppable local leader, first with the RCNL and later as the head of the local chapter of the NAACP.  
Moore understood how owning land would give him an independence that would be crucial to his work in the Movement. With a loan from the New Deal's Farmers Home Administration program, Moore built his own home at 614 Chrisman Avenue in Cleveland. Amzie Moore also owned his own service station on Highway 61, which was one of the only places where Black families could use the restroom on their drives through the state.
When SNCC arrived in the Mississippi Delta, Moore's house was a space for the nourishment of the mind, body, and soul. "Kids wore blue jeans, and I used to have sleeping in my house six and eight and ten, twelve," Moore remembered. I "[I]bought a lots of cheese, and always we'd eat cheese and peaches, and sometimes we would get spaghetti and ground chuck or ground beef and make a huge tub of meatballs and spaghetti to fill everybody up. And this is how we were, and everybody knew they were there, wasn't any secret."
Moore, along with other local Movement people, was one of the key organizers of the Bolivar County Head Start program in 1965. "It really, as far as the black community in Bolivar County, it brought us closer together," Reverend Sammie Rash remembered about the Head Start program, "It kind of took us off the begging list, off the welfare list. It kind of bought a little dignity. People would kind of hold their heads up in respect."
Local Landscape
Cleveland is the seat of Bolivar County and situated deep in heart of the Mississippi Delta. Cotton had been the city and region's lifeblood since before its founding 1869. Its plantation land and sharecropper shacks also gave Cleveland a rich musical history. Right at the intersection of Highway 8 and 61, the city pulsated with blues riffs and gospel songs, as travelers drove through on their way to Memphis or Vicksburg. In 1960, 40% of Cleveland's 10,000 residents were Black, a percentage much smaller than the 70% of Bolivar County. Poverty was an ever-present reality for Black residents, and with the leadership of people like Amzie Moore, Black residents understood early on how voting rights and the potential power of Black votes could address the inequality in their community.
References
Charles Cobb, On the Road to Freedom: A Guided Tour of the Civil Rights Trail
Oral History Interview with Rev. Sammie Rash, 1977, USM
Oral History Interview with Dr. Eleanor Boyd Walters, 1999, USM
Oral History with Amzie Moore, 1977, USM
Oral History with Amzie Moore, "Farewell to the N-double-A," 1976, www.crmvet.org